Effective weight gain diet plan for male and female
You must have often heard women talking about their increasing weight. Weight gain or obesity is one of the biggest problems nowadays.
But the loss of weight is also a matter of no less concern, especially for women.
Home remedies are the best option to gain weight naturally. It is not only very feasible but also highly effective in getting the person the right amount.
These home remedies and remedies are very suitable for gain weight without any side effects.
Home remedies to gain weight are a blessing for thin people. There can be many reasons for losing weight, such as stress, starvation, recovery from illness, and poor nutrition for some people.
Table of content
Causes of weight loss

Required Calories

Weight gain diet plan

Few homes remedies

Bonus Tips

Conclusion

When the weight is less or more are normal, then we take out a reduction in our routine and diet, but is it true. Due to thyroid and hormone disturbances in women, there is also the problem of obesity being more or less.

Many boys and girls eat and drink a lot, yet the body is lean and thin. Poor digestion or any stomach disease is one of the reasons for this.

Knowing your weight is also required to gain weight.
2- Required Calories for weight gain diet plan
It is required to keep in mind how many calories you take in the diet, whether to make lean body fat or to reduce obesity. More calories mean more weight.

To gain weight 2500 to 3000 calories are required daily in the diet plan. Your leanness will go away only when you take 500 calories more than your requirement.

Taking more calories does not mean that you should eat anything. pay attention to the food containing carbohydrates and protein in your diet chart.
If you want to gain weight quickly, we will explain to you a diet plan. We include vegetarian and non-veg foods in breakfast, lunch, dinner. You can also make some changes according to your body and age.
3.1- Before breakfast
Drink lukewarm water as soon as you wake up in the morning. Drinking lukewarm water detoxifies your body, and improves your digestive system Because improper digestion of foods can be the reason for weight gain.

You can also drink cream milk or almond milk before breakfast in the morning, which will help in increasing your weight.
3.2- Breakfast for Weight Gain
You can choose these options for breakfast in the morning.
In the diet plan to gain weight, eat 1glass of milk, 2eggs (white part), and 5-6 soaked almonds before breakfast in the morning. If you do not eat eggs, then you can eat bananas.

In breakfast, bread toast and 2egg omelets or 2parathas and 1 cup curd or 2boiled potatoes, 100 to 150 grams of cottage cheese.

After 2 hours eat dry fruits or peanuts, 1glass whey pr, 1glass of lassi.

Wheat porridge also has enough calories, you can consume it with milk.

You can also eat Poha or paratha.

Fruit or fruit juice is the best source to gain weight.
3.3- Lunch
You can consume 1bowl of soup, 1bowl of mixed vegetables, 1 cup of lentils, 2roti, 1 cup of rice, and 1 cup of salad.

You can add 1 tsp of desi ghee to lentils.

At lunch, you can also eat pulao, khichdi, Makki ki roti, etc.

After 2hours eat 2bananas, 1glass of milk, 1teaspoon lazy, 1teaspoon honey, 1teaspoon peanut butter, and some chocolate to taste. Make a shake by mixing all these things and consume it.
3.4-Evening Time
In the evening, you can have some biscuits with tea or coffee.

After evening tea and shortly before dinner, eat a handful of roasted soybeans or some almonds.

You can also eat a grilled sandwich in the evening.
3.5-Dinner
For dinner, 1bowl soup, 1bowl vegetable, 1 cup lentils, 2roti, 1 cup rice, 1 cup salad.

You can eat 3-4 boiled eggs (white part) or 100 grams of cottage cheese.

You can eat 100 grams of fish/chicken and vegetables, lentils, rice, and roti.

Drinking one glass of milk mixed with honey at night before going to sleep helps in rapid weight gain.

If you consume non-veg, you can consume eggs, fish, and meat, and It's rich in protein and calories.
4- Few home remedies for weight gain diet plan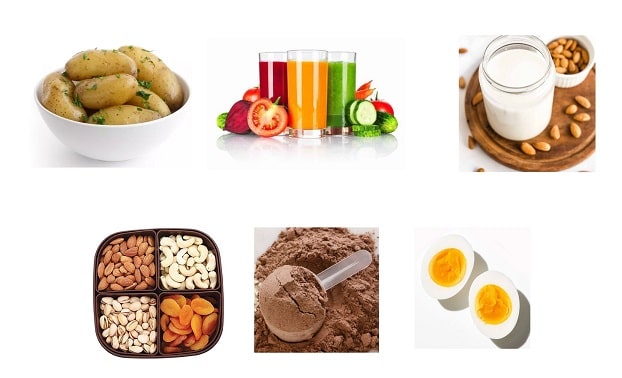 There are best home remedies, which will help for weight gain, which is required.
4.1- Boiled Potatoes
Boiled potatoes are like a boon for lean people, so you can consume them in your diet.
4.2- Almond Milk
Almond milk helps increase weight, so you can also include it in your diet.
4.3- vegetable juice
Green vegetable juice gives you energy and strengthens the digestive system. That's why you include spinach juice in your diet.
4.4- Dry fruits
Dry fruits are the best fiber-rich protein food, so include them in your diet too.
4.5- Egg or protein
If you use egg or protein in the diet, then it is very beneficial for you. It is rich in sodium, potassium, vitamin D, magnesium.
1- Protein-rich diet
Protein has a role in weight gain and strengthens muscles, so you must use 1 liter of milk, egg, meat, and protein powder in your diet.
2- Calorie-rich diet
To gain weight, you need to consume at least 2000 to 2500 calories daily. Therefore, use fat-rich things like carrots, spinach, broccoli, fish and ghee, and seed oil in the diet.
Note – Do not consume junk food
3- Healthy Fats 
The union of carbon and hydrogen creates many organic molecules, one of them being fats.
It helps in making our body healthy by using some vitamins. Fats also make our bodies dynamic and functional.
It's used to reduce the need for fats and proteins.
We should not consume an excessive amount of fats as it can prove to be life-threatening for us.
There are two types of fats.
Saturated fats– It is a macronutrient and contains fat molecules, a glycerol molecule, and three fatty acids, These are harmful to our bodies because these saturated fats also cause high cholesterol and increase the risk of heart disease.
Unsaturated fats– It is beneficial for the body, and it increases the good cholesterol by reducing the bad cholesterol from our body. It protects us from heart diseases and builds a healthy heart.
Source– nuts, fatty yogurt, Almond, Olive oil, coconut oil, fatty fish, chicken, eggs with yokes.
4- Supplements
If you are underweight and want to gain weight quickly, then you intake supplements along with foods. Consume it only after asking the doctor.
Note– You can take it in the morning before breakfast and in the evening before dinner.
Useful tips for weight gain
Exercise and yoga are beneficial to gain weight because it helps to build muscle and strengthen your digestion system.
Don't take the stress.
After exercise, the body needs rest, so have a good sleep.
I hope that now you understand the article on weight gain diet plans for females.
If you have any questions or suggestions related to the weight gain diet plan for females, you post your comment below.