Meal guide to Gain Muscle Mass and Build Muscle
Gaining muscle mass requires adapting your daily diet and changing some of your habits. To succeed in your muscle development, we will see that only 3 meals a day are not enough and that you will have to start a new diet rich in protein to succeed in your muscle gain program.
Special muscle building diet
If you refine your figure or lose weight, then muscle mass gain is required. It stimulates the metabolism and increases daily energy expenditure.
In addition to physical exercise, then you need a special muscle strengthening diet that allows both men and women to gain harmonious and optimal muscle. It is a fractional diet rich in natural proteins to promote mass gain "meal to Gain Muscle Mass".
The essential points of the special muscle building diet:
Ensure a good supply of natural proteins

Get enough carbohydrates

Incorporate snacks to promote mass gain

Make sure you have a balanced diet

Know how to compose a special mass gain menu based on protein meals
Rules for building muscle
What is muscle? 
The muscle is composed of contractile material capable of responding to a request for movement and resistance to extension and traction.
Every muscle in our body needs to be nourished properly so as not to suffer and cause pain, cramps, or even muscle tears.
As you have understood, a good training program and an appropriate diet are necessary to gain muscle.
Our muscles feed on proteins, carbohydrates, and good fats. Proteins maintain and build muscle. That's why we need to increase our consumption of meat, fatty fish, dairy products, and eggs.
The energy necessary for their proper functioning comes from carbohydrates. But be careful, not just ones! Fast-absorbing carbs only provide short-lived energy. It is therefore important to favor slow-absorbing carbohydrates in the context of quality mass gain "meal to Gain Muscle Mass".
Mass gain leads to body weight gain that corresponds to the newly developed muscle. It should in no case correspond to again in lipid mass, hence the importance of properly controlling your food program by an appropriate calorie intake, in particular by an intake of olive oil or fatty fish rich in Omega-3.
Determine your nutritional needs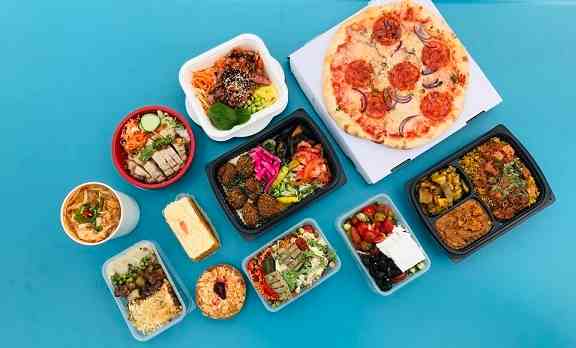 Gaining mass does not happen without knowing your nutritional needs. It depends on your body weight and the amount of muscle mass to develop your muscles.
You should not hesitate to approach a dietician if you hesitate to embark on a diet specific to building muscle mass. You can also meet a sports coach in your gym who can guide you on the special diet to follow; a diet that is adapted to your morphology.
The calculation of nutritional needs is done according to your height, weight, and physical form. You may have a little more strict diet at the start to eliminate an unsightly fat mass before starting your effective muscle gain.
What foods to eat for effective mass gain?
In your muscle development program, you will favor your meals of mass gain:
Proteins:

 white or red meat, eggs, dairy products, cottage cheese, vegetable proteins such as soy or legumes, whey isolate, beans, shellfish and crustaceans, nuts, and seeds;

Good carbohydrates:

 fatty fish, olive or coconut oil, nuts, cashews, peanuts, avocado;

Slow-absorbing carbohydrates:

 lentils, sweet potato, basmati rice or brown rice, buckwheat pasta.

Moreover, find our guide for supplements to reach your goals faster.
You can also add dietary supplements: protein powder, protein bars, and energy drinks. Never forget to eat fresh vegetables and provide yourself with vitamins and mineral salts.
How much to eat to gain mass?
3 bulking meals a day is not enough for the muscle mass gaining program "meal to Gain Muscle Mass". You will enrich your daily diet with 2 snack breaks around 10 am and 4 pm.
You will therefore have the following food rhythm:
Take Breakfast

Snack at 10 a.m

Eat lunch

Snack at 4 p.m

Take dinner
You will also be able to consume extra protein and good carbohydrates during your training sessions to feed your muscles and prevent cramps and possible tears.
One serving of fruit and vegetables is:
1 apple, banana, orange, or pear

2 clementines

2 kiwi fruit

2 apricots

250g strawberries

10 to 15 cherries

2 slices of pineapple

1 bowl of salad

250ml soup

1 compote

1/2 plate of green vegetables
5 examples of meals for successful mass gain
Here are several meal ideas that will allow you to increase your muscle mass
1. Breakfast: eat cottage cheese, a piece of chicken or turkey, two fried eggs with wholemeal bread and a banana, and pancakes.
2. 10 a.m. snack: 2 hard-boiled eggs, a piece of chicken or turkey, 2 pancakes made from a protein preparation, and a protein bar.
3. Lunch: oily fish with brown or basmati rice, a good handful of fresh spinach.
4. Lunch: grilled red meat, a gourmet salad made up of chickpeas, beets, green beans, and quinoa. Fromage blanc for dessert.
5. Evening meal: a salmon steak with sorrel accompanied by sweet potato.
Practical advice for dry food program
Alternate animal protein sources with vegetable protein sources

Add lentils to soups, salads, and vegetable dishes

Always have a small packet of nuts and almonds on hand for a balanced snack.

Cook as much as possible to avoid hidden sugars and bad fats

Drink at least 2 liters of water a day and distribute the hydration throughout the day

Choose lean meats and eat skinless poultry

Make homemade sauces with cottage cheese and herbs and avoid store-bought sauces.
Benefits of the diet on mass gain
The following diet has many benefits on mass gain, it allows you to:
Preserve muscle mass

Promote muscle development

Refine the silhouette

Have a more powerful basal metabolism

Achieve and maintain a healthy weight

Avoid the risk of cardiovascular disease

Meet the body's protein needs

Provide the right proportion of carbohydrates before and after physical exertion

Learn to compose a special mass gain menu

Include snacks to distribute energy intake
How much protein intake to promote mass gain?
Normal person – 0.8g/kg body weight

Aesthetic sports- 1.2 to 1.7 g/kg body weight

Endurance sports – 1.2 to 1.6 g/kg body weight

Power sports – 1.6 to 1.8 g/kg body weight

Maintenance of muscle mass – 1.2 to 1.6 g/kg body weight

Development of muscle mass- 1.6 to 1.8g/kg body weight