Mediterranean diet plan effective for weight loss
The Mediterranean or Cretan diet is considered one of the healthiest diets in the world. It is also popular because it is easy to apply and particularly appetizing.
This diet is based on the traditional diet of countries like Italy, Spain, Greece, and southern France. Scientists looked into this specific diet because they noticed that Mediterranean people were generally in better health and helped to lose weight compared to others.
We offer you an overview of the most famous diet in the world in this article.
The Mediterranean diet depends on food selection. It consists mainly of good fats, plants, and even wine!
Processed foods, refined sugars, and trans fats, on the other hand, are prohibited.
FOODS OF THE MEDITERRANEAN DIET
Vegetables, fruits, nuts, seeds, legumes, whole grains, spices, herbs, salad, fish, and seafood include without restriction.
Olive oil, virgin, and cold-pressed are omnipresent in this diet.
Poultry, eggs, cheese, and dairy products (mainly from sheep and goats) are consumed in moderation.
Liquid Mediterranean diet
Red wine is allowed in this diet. But be careful: no more than one drink a day for women and two for men.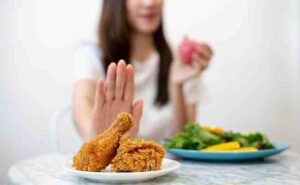 Sweet products: soda, sweets, ice cream, table sugar, etc,
Foods made from refined cereals: white bread, white pasta, etc,
Refined oils: soybean oil, rapeseed oil, etc,
Industrial meats: sausages, hamburgers, hot dogs, charcuterie, etc.
Prepared meals and junk food as a whole
THE HEALTH BENEFITS OF THE MEDITERRANEAN DIET
The Mediterranean diet is associated with better health markers and would be favorable to longevity.
HEART HEALTH
Regular consumption of olive oil and red wine with the elimination of foods such as white bread, processed foods, and red meat is beneficial for cardiovascular health.
In one study, participants who followed a Mediterranean diet rich in nuts and olive oil for 3 months saw their cholesterol (LDL) levels and blood pressure drop, two key factors preventing heart disease.
Cardiovascular health
In another study, people who followed the Mediterranean diet and who consumed 30g of mixed nuts reduced the prevalence of their metabolic syndrome by more than 14%. Metabolic syndrome is a serious condition that brings together various problems related to excess weight, cholesterol, and insulin resistance and is intimately linked to heart attacks, strokes, and diabetes.
DIABETES
Type 2 diabetes, unlike type 1 diabetes, develops with age and is always linked to poor diet and being overweight. By dint of excess, the pancreas can no longer produce enough insulin to absorb the sugars which remain in the blood. These high blood glucose levels promote the onset of diseases such as cancer and cardiovascular disease.
In a follow-up study of 418 people, those who followed a Mediterranean diet reduced their risk of developing diabetes by 52%.
INFLAMMATION
Inflammation is a normal phenomenon through which the body fights infection and disease. When inflammation is constant and chronic, it becomes dangerous for health and leads to severe pathologies such as heart disease, cancer, diabetes, and neurodegenerative diseases such as Parkinson's or Alzheimer's.
The Mediterranean diet is rich in good fats including oleic acid from olive oil, which contributes to a better inflammatory balance.
LOSE WEIGHT WITH THE MEDITERRANEAN DIET
Yes! And it is even one of the best diets to find the line because it is more like a lifestyle than a diet itself. The meals are tasty and varied, and you can even afford a glass of red wine a day, cheese, and appetizing seasonings.
This diet is healthy and balanced. It does not recommend any excessive and exclusive consumption of certain foods and does not recommend any overhydration or preliminary purification.
In short, it is anything but spectacular like most of the methods that make the buzz, and that does not make anyone lose weight. But it allows you to lose weight for real.
The Mediterranean diet allows for a variety of foods and more possibilities to prepare appetizing and healthy recipes. Enough to stay motivated over the long term and keep the line for good.
THE MEDITERRANEAN DIET PLAN for weight loss and athletes
To help you get in the saddle and show you how appetizing the Mediterranean diet is, here is an example of a typically Cretan and effective food plan for losing weight and stabilizing it.
It's up to you to choose the right quantities according to your needs after calculating your macros "Mediterranean diet plan weight loss".
BREAKFAST
You can choose these options for morning breakfast meals
Oatmeal

strawberries

blueberries

cottage cheese

Organic eggs

Spinach

Tomatoes

Mushrooms

Whole wheat bread
Breakfast for athletes:
30g of whey protein

30g rolled oats

blueberries

Walnut kernels
LUNCH
Greek salad: with boiled eggs, feta, olives, cucumbers, tomatoes, and walnuts
Grilled chicken fillet

Complete white rice(1 bowl)
Lunch for athletes:
Green salad

Cucumber

Feta cheese

olives

Garlic

Sliced grilled chicken fillet
Between 4 PM to 6 PM
SNACK
A mixture of almonds, walnuts, cashews, and pistachios

1 banana

200g low-fat cottage cheese
athletes snack
1 mixture of almonds, walnuts, cashews, and pistachios

30g of casein or whey protein

1 banana
DINNER
Grilled salmon

Kale cabbage

Spelled
Or
Grilled white fish

Broccoli

Brown rice
Athletes dinner
Fish or white meat

Brown rice or quinoa

Broccoli or cabbage

Mix of nuts
The variety of dishes is enormous, so you will always find foods that you like to combine.
If you follow this diet over the long term, you will notice that you lose weight and that your fat deposits on the hips, buttocks, and stomach gradually disappear.
Above all, the lost weight will not come back (unless you adopt the American diet) "Mediterranean diet plan weight loss".
If you are in a hurry and want to speed up the weight loss process, opt for quality dietary supplements to facilitate fat burning, better manage appetite and free you from problems with water retention and cellulite.
THE USEFULNESS OF FAT BURNER
They are intended to burn fat, as their name suggests. But they also reduce water retention and help you to get rid of cellulite. Check out our fat burner guide to make your choice!
PROTEIN CUTS HUNGER
Casein is a protein from milk. It's thick, incredibly satiating, and absorbs up to 6 hours. It is the ideal protein for all people who follow a Cretan diet but are hungry between meals.
The advantage of casein is that it is low in calories: 100 calories on average for a dose of 30g.
THE CLA FOR ABDOMINAL FATS
If you especially have the belly to lose, do not hesitate for a second and supplement yourself with CLA. It is a natural burner derived from an omega 6 fatty acid. It facilitates the oxidation of stored fat and targets the abdominal strap.
Also, CLA reduces the formation of new fats. Indicated for people who have lost a lot of weight and wish to stabilize it.
The Mediterranean diet is absolutely the eating style to go for to stay lean, fit, and younger for longer. The diet is varied, healthy, and balanced, which makes it more accessible and more effective over time "Mediterranean diet plan weight loss".