12 Ingredient homemade anti aging face cream recipes 2021
If you have not been able to get rid of your wrinkles even after applying expensive anti-aging cream, so do not worry. Here we are going to tell you some anti-aging cream with natural ingredients,
That will start showing an effect on your skin within a week. It also takes less time to make this cream, and its magical effect will also surprise you.
All the harmful chemicals are present in some anti-aging creams available in the market. Not only this, these anti-aging creams are expensive and not very effective.
We have brought you a very affordable and effective Homemade Anti Aging Cream.
You can make this cream yourself at home, and the thing is that you can make this cream and keep it for a long time.
Everything mixed in it is natural, so there is no question of its side effects.
You can get rid of wrinkles and fine lines by making them a part of your daily face care routine.
So let's learn how to make and apply this cream.
Table of content
Overview of Homemade face cream recipes 2021
Recipe Ingredients
Recipe-1
Benefits of Homemade anti-aging cream
Recipe- 2
Recipe- 3
Best anti-aging cream skin care 2021
1- Overview of Homemade face cream recipes 2021
With the ingredients given below, you can make anti-aging cream for yourself at home, and I will tell you different methods of making face cream from these ingredients.
You can use some of these for three months, some you can use for two to three days.
2- Ingredients
Almond oil

Coconut oil

Tablespoons Bee Wax

Tablespoons vitamin E oil

Shea butter

Drops any aroma oil (optional)

Flex seeds(5 to 10gram)

Aloe vera gel

vaseline

glycerin

Vitamin E(1 capsule)

virgin coconut oil + olive oil
We will learn to use these 12 ingredients to make homemade anti-aging cream or serum in 3 different ways.
3- Recipe-1
Firstly, we are going to use these 6 ingredients to make face cream.
1 almond oil

2 tbsp coconut oil

2 tablespoons Bee Wax

6 tablespoons vitamin E oil

1 tbsp shea butter

10 drops any aroma oil (optional)
Mix all the oils in a glass jar. Now melt the Bee Wax and Shea Butter (both ingredients are available online) by placing them in a double boiler. 
Now mix it with oil in a jar and mix it well and leave it to settle.
How to use:
Before sleeping at night, clean your face with a cleanser using a face wash. After washing your face, and this cream has to be applied before its moisture dries up.

Now apply this cream well on the face and massage it on your face for five minutes with light hands.

Apply this cream on the neck and face and bring it upwards while moving the hand from the throat.

After five minutes from massage, leave it on the face to be absorbed into the skin overnight.
You have to do this work every night. You will start feeling the difference in just a week.
4- Benefits of homemade anti aging face cream recipes
Almond oil

This oil helps in making the skin soft. In addition, it also removes stains. This oil is effective in reducing psoriasis, eczema, and any other kind of scars.
Extra Virgin Coconut Oil

This coconut oil protects against free radicals and also contains the most antioxidants. Along with making the face fair, this oil also removes the effect of anti-aging.
B-wax and shea butter

Both have anti-inflammatory properties, and when mixed with vitamin E, they become rich in antioxidants. Make this easy-to-make cream and say bye-bye to the problem of wrinkles and loose skin.
Flex seeds

Flax seeds are rich in lignans and antioxidants, and they help to remove lines and wrinkles from our faces.
Along with this, fatty acids are also present in them, which maintains moisture and smoothness in your skin.
Alovera gel
It also maintains moisture and smoothness in our skin.

Prevent sunburn

Fight Against Aging

prevent from stretch mark
Vaseline
 Healing from skin damage

Prevent rash

provide the moisture to your face, hand
Glycerin
Refresh your skin freshness

Hydrate your skin

Relieve dryness

Moisturized your skin
Virgin coconut oil + olive oil
 healthful antioxidant 

Contain phytochemicals

Beneficial for skin moisture
Vitamin-E
Prevent skin cancer

Beneficial for itching

Beneficial for Eczema, Psoriasis

prevent wrinkle

Heal from wound
5- Recipe-2
In making this homemade anti aging cream recipe we will be using flaxseed.
To use it, we put flaxseed in a pan and boil it on low flame for 10 minutes.
Collect it in a jar, and apply it on the face while sleeping at night and massage it slowly.
Note- You should use it within three days, and it becomes thick after a longer time.
6- Recipe- 3
In the third homemade anti aging cream recipe, we can prepare in 2 ways,
First, we will use 1 teaspoon glycerin, Vitamin E(1 capsule) in 1 bowl, and second, we will use 1 tsp virgin coconut oil + olive oil.
We can sleep after applying this serum on the face at night after drying.
You can use it 3 to 4 times a week or use it throughout the week.
7- Best anti aging cream skin care 2021
If you have less time and you do not want to get into the hassle of making these creams, then I am going to tell you about 5 good herbal anti aging creams.
You can use these anti aging creams while sleeping at night.

1- Lotus Herbals Serum + Cream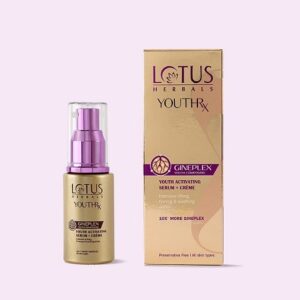 Using a natural formula in the herbal serum helps you to nourish and moisturize the skin, gives you 2 in 1 advantage
This cream and serum is effective in hydrating and absorbing moisture from your skin,
these face creams simultaneously removing dead cells from your skin
Key Features
2-in-1 effect of anti-aging serum

Hydrating properties of crème

Anti-aging serum

Nourishing anti-aging cream

Reduces blemishes and dark spots

Tone skin

anti-aging formula to reveal younger-looking, beautiful skin
2- Shahnaz Husain's Anti-Wrinkle Cream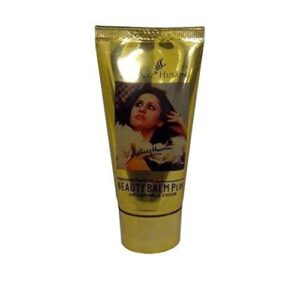 This cream contains almond oil, olive oil, jojoba oil, vitamin E, carrot seed, grapefruit, and rose water.
This cream is a good cream for dry and mature skin, and it leaves your skin soft, smooth, and reddened.
Key Features
wrinkle remover cream

Nourishes and rejuvenates your skin

Moisturizes and strengthens the skin
3- Lotus Herbals Papayablem anti aging cream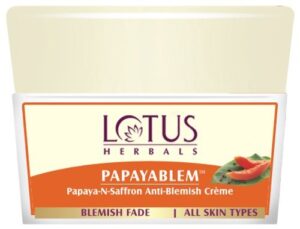 This cream has a unique blend of Papaya, Saffron, Almond, and Apricot, which removes blemishes from the face and makes the complexion fair.
It provides moisture and glows to your face. and is suitable for all skin types
For best results, clean your face before sleeping at night and apply the cream on the face and massage it upwards slowly,
Key Features
Suits All Skin Types

moisturizing, softening

Contain vitamin E

Clove oil is antiseptic

anti-acne

Natural source of Vitamin C

antioxidant & anti-blemish

Natural astringent
4- Khadi Rishikesh Herbal face cream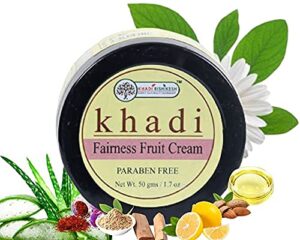 This cream is also the best anti-aging cream that provides glow and moisture to your skin,
This cream is suitable for all seasons, whether it's winter or summer, and you can use it daily.
Key Features
removing dead skin cells

Prevents Pigmentation

Dark Spot Reduction

Skin lightening and glow face
5- Tru Naturelle Essence Anti Aging Cream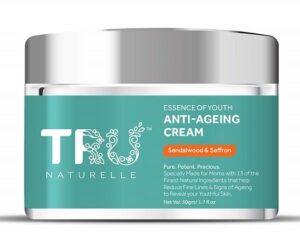 This face cream is a special cream for people above their 40s, and it contains ayurvedic herbs.
It contains components that remove wrinkles from your face and help in tightening the skin.
Saffron brightens up your dull skin and gives a natural glow.
Rose and turmeric are anti-oxidant and helps in tightening the pores.
key Features
Dermatologically Tested

Suitable for all skin types

No harsh chemicals

reduce the spots

Rich in Anti-oxidants

glow your dull skin