We must have seen the runners, athletes almost everybody does stretching at some time, but very few people know about its benefits
The truth is that stretching added sort of health benefits because it's working like a booster before the workout
Stretching has many advantages besides cooling our body and increasing the speed.
Let's know-how
Stretching helps your blood flow
helps for weight loss
help to reduces your risk of injury
Beneficial to relieves your stress.
A study has also found that doing 1-hour daily stretching exercises is effective for a fight against hypertension.
Just pay attention to this research

if you added some stretching exercise to your daily routine, then you not only de-stress and loosen your limbs, rather You can also take care of your heart
I am going to discuss a few stretching exercises with various forms.
Bhujangasana- Lie down on your stomach and place the two paws of your hands next to your chest and pull yourself up with the help of the claws, and look upwards.
In this pose, you feel a strain in the stomach and shoulder, causes improve the circulation of blood and oxygen and improve digestion
Dhanurasana- In this pose, you lie down, take your hands behind, then hold the toes of both your legs and pull them towards your head.
By doing this, we feel stressed in the thighs, hands, and stomach muscles
this yoga pose for increasing and regaining spinal strength and flexibility, improve the digestive organs, remove constipation
Tadasana- It's like a mountain pose by standing with both hands together, they pull themselves up with the help of their forefoot, we can also band backward if you want.
In this pose body experiences, full stretch from the bottom to the top helps to improve the flexibility of your ankles, thighs, and joints and tone your hips
Chakrashana- It's like an upward wheel pose, touch both our legs and claw on the ground, with both our legs bent on the ground and turning our entire body backward.
While doing this, we feel the tension in the stomach, legs, and hands
it reduces the stress and strain in the body, Sharpens eyesight, and increases the elasticity of the spine
Paschimottanasa- It's a kind of Seated forward bend when we sit down and straighten our legs, and we touch the toes of the feet with both our hands.
We feel a strain in our spine and whole legs muscle.
this stretching beneficial for mild depression, Stimulates the liver, kidneys, ovaries, and uterus
In the beginning, we stand on both feet together, then with our right-hand twist the right leg and pull it upwards and hold for 20 seconds, then repeat on the other side.
This kind of exercise helps to improve blood circulation and relax our muscles
The first stand on both legs then slowly slide your knees while pulling yourself forward, keeping your toes pointed outward. Hold for 30 seconds.
It's easy, we have to sit down on the floor and move our upper body clockwise and anticlockwise using hands and shoulders.
5-Standing Hamstring Stretch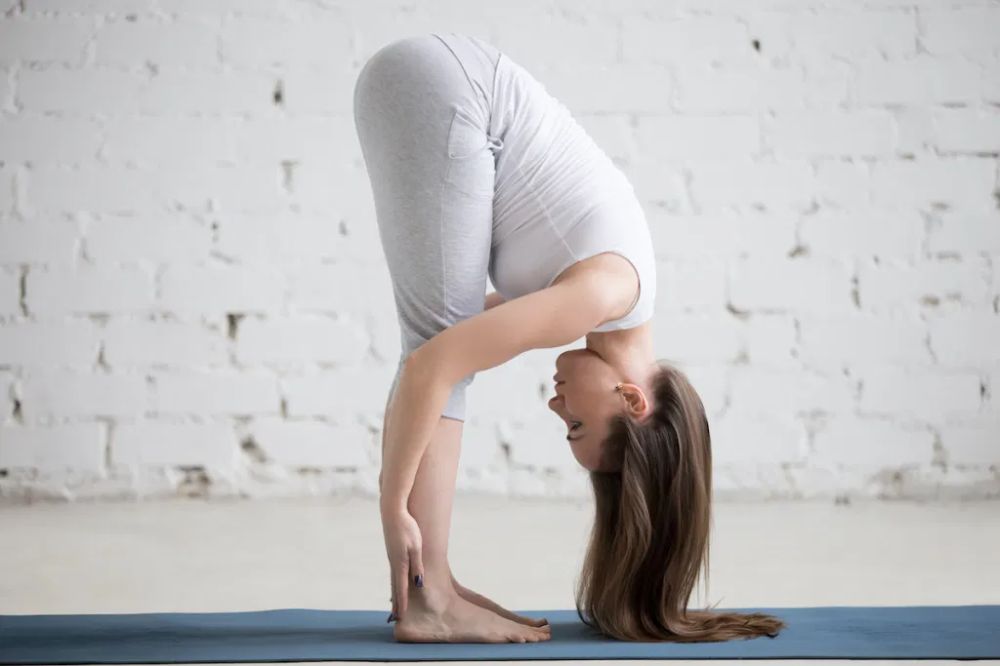 Standing on your feet, try to get your hands to touch your toes and bend forward and turn your head towards the toes, and hold for 30 seconds, doing this will also strain your back and waist
You can easily do some of the stretching exercises given above, and you will find some difficulties, but by practicing every day, you can do it easily
Which of these exercises do you like, post your comment below